Walk for HER: It starts with one person
Peggy Truscott's Story
The Ovarian Cancer Canada Walk of Hope encompasses an important tradition for thousands of women and families who have been touched by the disease. Back in its earliest days, the Walk sprung from the vision of one woman.
Her name was Peggy Truscott and she was the second oldest in a large family of six. After she graduated from nursing, she and her husband, her best friend, had three daughters.
"Peggy was a loving and compassionate woman, and a dedicated health professional whose family was the centre of her world," says Cathie Hughes, one of Peggy's sisters.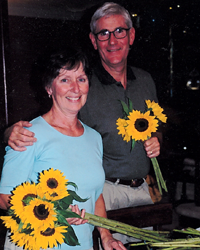 Peggy and her husband Bruce arranging sunflowers just prior to the first Walk
In 1999, Peggy was diagnosed with ovarian cancer.
"She was determined to fight it and to bring awareness to the disease," Cathie adds.
"Even with her health background, Peggy didn't know much about ovarian cancer. This made her angry," recalls Martha Hoyt, an advocate who spoke at last year's Walk in Kitchener-Waterloo. "I remember the look she would get when she reflected on her plans to retire and when she thought about her beautiful girls who were just on the cusp of adulthood. She really wanted to be there for everything."
Martha had met Peggy at a newly-convened support group for ovarian cancer patients. Over the course of her treatments, Peggy grew determined to bring about a walk to create an environment where women and families living with the disease would feel safe and supported.
Marching into the office of what was then the National Ovarian Cancer Association, which was just two people strong at the time; Peggy didn't just ask for an event, she owned it.
And so it began. The first Walk was held at Sunnybrook Park in Toronto.
"I'll never forget pulling into the venue on Walk day," remembers Elisabeth Baugh, CEO of Ovarian Cancer Canada. "To set the stage, Peggy had sunflowers brought in by the truckload. She was surrounded by friends and family. Everyone was committed to seeing to its success."
Peggy gave rise to a movement that day. Catching wind of it, people in other cities began to step forward with offers to organize the Walk locally.
Today the Walk continues to honour Peggy's legacy, growing with each steady step in the names of people everywhere who are or have been affected. Unique from other walks in that it focuses solely on overcoming ovarian cancer, this is the largest one-day event of its kind in the country.
"The Walk represents the courage and the backbone of the ovarian cancer community," says Martha. "This is my cancer and despite this being an intensely personal disease - we are in this together. Participating is my way of facing cancer head on, dedicating both my mind and money to the cause that I care about the most and honouring this petite but formidable, passionate woman."
Subsequent to that first Walk, the National Ovarian Cancer Association joined forces with another organization to form a 'new' Ovarian Cancer Canada, the only national charity dedicated to this important cause. Doing so eliminated duplication of efforts and created new efficiencies to ensure that every dollar entrusted to the organization is used to its fullest potential.
Peggy and her daughters, Sarah, Martha and Rebecca at the 2002 Walk
In fact, the Ovarian Cancer Canada Walk of Hope now powers a staggering two thirds of the organization's work. Meaning what is raised by the Walk directly impacts Canadians by providing support, increasing awareness, and funding vital research.
"Peggy was committed to seeing that women living with the disease knew they were not alone," says Wendy Sharpe, one of Peggy's dearest friends."I think she would be very happy about how the funds raised by the Walk have provided this assurance by ensuring Ovarian Cancer Canada is here, taking things even further by championing change and advocating on behalf of everyone who has been affected. But Peggy would never languish on laurels. She would be thinking about the next Walk...about the future!"
Each September, Peggy smiles on participants throughout the country who carry the torch with every reason to walk towards a future without ovarian cancer.