Thank you for your support of Ovarian Cancer and this cause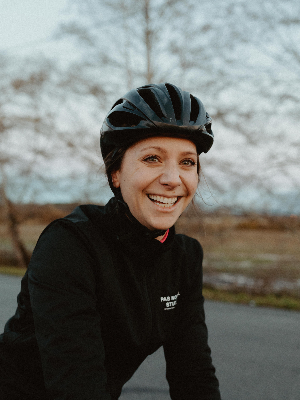 Ovarian Cancer took my sister from me when she was just 32, since then I have been working to raise awareness through cycling.
In June 2022 I will ride out across Canada to set the Guinness World Record and bring awareness to this deadly women's cancer that has gone overlooked for too long.
With your help we can raise $1 million to put towards research and advocacy work at the BC Cancer Foundation and Ovarian Cancer Canada, two organizations who I trust and believe in to make a difference in the lives of women dealing with this disease. Since I began this journey friends and supporters from my community have joined in the fundraising efforts. To see our collective progress click the home button in the top navigation.
Today, thousands of Canadian women are living with ovarian cancer and another 3,100 will be diagnosed this year.
Each of these women is central to a family. Every one of these women has people who love her. Just being there to support and honor her means everything. That's why I am supporting this vital cause.
This event is special to me because it honours women and families touched by ovarian cancer and celebrates the hope that I carry with me every day – the hope for a future without this disease.
Every dollar I raise supports Ovarian Cancer Canada and the BC Cancer Foundation.
Funds will help further scientific progress, advocacy efforts and support programs.
Please support this event with a generous donation. Together we can help women live fuller, better and longer lives.
View More
Fundraising Honor Roll
The Spiel Foundation
$10,000
Conum Charitable Foundation
$10,000
Anthem Properties Group
$10,000
The Rennie Foundation
$2,500
Mike & Linda McKone
$2,000
Leonard Schein and Barbara Small
$2,000
Jon Dietrich & Carol Leacy
$2,000
Emily & Thomas Glover
$1,000
A&G Massage Therapy
$1,000
Cristina Valentinuzzi
$1,000
Barrett / Frohlich family
$1,000
Mrs. Elaine Baumann
$1,000
Diane King and family
$500
Shannon Salvador and Family
$500
Debbie McLean and Sean Waller
$500
Mickelson and Moore Family
$300
Jess McAlpine and family
$300
Jeff, Elaine, & Gio Pietrobon
$250
Mark and Megan Mackenzie
$250
Kate Smith & Spencer Glodek
$200