Welcome to Lois' Personal Page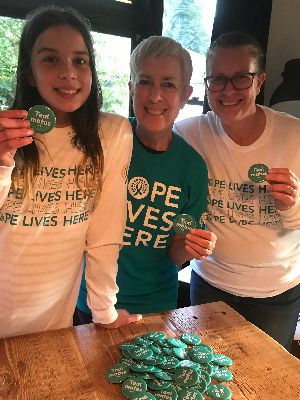 Approximately 3,100 women are diagnosed with ovarian cancer each year in Canada. In January 2020, I was stunned to become one of those statistics when I was diagnosed with advanced metastatic high-grade serous ovarian cancer (Stage 3C). High-grade tumours are the most malignant, are faster-growing and spread earlier. As with most women who receive this grim news, I had virtually no warning. Early stage ovarian cancer rarely causes any symptoms, while even at the advanced stage, the symptoms, if any, are vague and easy to dismiss. Nor is there a screening test available. As a result, 75% of women in Canada with ovarian cancer are diagnosed at stage 3 or 4, making this the most serious cancer for women.
While ovarian cancer is typically very responsive to chemotherapy, it often recurs quickly. 7 in 10 women die from this disease within 5 years of diagnosis, and the long-term disease-free survival rate for advanced ovarian cancer is only 10%.
Fortunately, things are beginning to change. While no cure is available for advanced ovarian cancer, new treatment options have been making their way through clinical trials, notably drugs called PARP inhibitors, which keep cancers from growing by blocking their ability to repair DNA. Women with BRCA mutations often have the most benefit from these drugs.
After completing first-line treatment - chemotherapy and surgery – I was one of the first at BC Cancer Agency to be put on a PARP inhibitor, Zejula (niraparib), the protocol for women without a genetic mutation. However, at my urging, genetic testing of my tumour tissue later revealed that I had had a "sporadic" BRCA mutation, making me eligible for the PARP inhibitor, Lynparza (olaparib). This drug has shown some efficacy in delaying a recurrence of ovarian cancer and I am better able to tolerate it. So, there is reason to feel hopeful!
The Walk of Hope celebrates the hope for a future without this disease. Every dollar I raise supports Ovarian Cancer Canada (OCC), the only national charity that champions the health and well-being of women with ovarian cancer and others at risk of this disease. Funds will be used to fund vital research, spur advocacy efforts, and provide support so that we can help women with, or at risk of, ovarian cancer live fuller, better, longer lives. I and many women currently living with ovarian cancer in Canada are directly benefiting from the research efforts funded by OCC and to the wide range of resources, educational and support events offered by OCC.
Please support my walk, or better yet, join my team, Tealmates. We will be joining other walkers in Victoria this year:

Location: Westshore Parks and Recreation (1767 Island Hwy)
9:00am: Arrivals and Welcome
10:00am: Walk/Run Begins
For those supporters who live in other parts of the country, we welcome your participation virtually!

View More
Achievements
No Badges Have Been Earned
Honour Roll:
Austin Cullen and Leslie Howard
$200
Kate and David Hamilton
$125
Jeff and Maureen Hasbrouck
$100